Euromaidan PR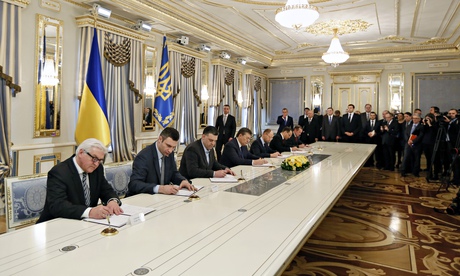 The deal was hammered out in Ukraine's presidential palace during overnight talks. Photograph: Thomas Trutschel/Photothek via Getty Images
The full text of the deal signed by Ukraine's opposition leaders and President Viktor Yanukovych, released by Germany's foreign ministry
Concerned with the tragic loss of life in 
Ukraine
, seeking an immediate end of bloodshed and determined to pave the way for a political resolution of the crisis, We, the signing parties, have agreed upon the following:
1. Within 48 hours of the signing of this agreement, a special law will be adopted, signed and promulgated, which will restore the Constitution of 2004 including amendments passed until now. Signatories declare their intention to create a coalition and form a national unity government within 10 days thereafter.
2. Constitutional reform, balancing the powers of the President, the government and parliament, will start immediately and be completed in September 2014.
3. Presidential elections…
View original post 253 more words